Asgard's Covergirl, VCD 2, UD, RE, PT, AX, AXJ, BH, JHD, CI, CST, V/VX, TT, CGC
"Dinky" (9/27/1994 - 1/8/2007)
FIRST Rottweiler to earn the American Kennel Club VCD 2 (Versatile Companion Dog 2) title.
For more information on the newest AKC title, VCD, you may wish to check out this AKC link .
AKC Obedience Field Rep, Bill Thayne, saw her rally performance, in April, 2005, and he commented that she looked like a "lot of fun" to work due to her bouncy rally advanced run. I told him that Dinky was my "Miracle Dog," since her doctors and I agreed that she was doing so very well in spite of her health condition (Lymphangiectasia).
Dinky earned her Rally Excellent title (RE) at the age of 10 1/2, and placed first in her Rally Excellent class.
Left: Dinky qualified for the ARC Versatility Excellent title (VX), and she was the first Rottweiler to earn the newest AKC "VCD 2" title because she had earned awards in a variety of events. Dinky was also among the first dogs in the country, to earn an AKC Rally Novice (RN) title on January 2, 2005. Dinky LOVED agility and she earned her Excellent Agility title (AX), and her Excellent Jumpers with Weaves title (AXJ). She also earned the ARC carting team title, and she earned an AHBA herding title (JHD). Dinky earned her UD (Utility Dog) with a first place for her first leg, and fourth place for her second and third legs. She earned her BH, a German obedience title, in October 2001. She earned her first AKC herding titles (HT & PT) within less than one week. Dinky LOVED herding, and when she had the opportunity to try herding ducks, and the ducks fell (on their backs), Dinky promptly scooped them up and gave them to the herding instructor.
Dinky finished #3 in the ARC Top 10 for her agility class in '98 and #5 in '99 and #10 in '00. She continued to impress crowds and other handlers with her rally skills, her speed, attitude, and pleasant PERSONALITY. She loved to invent 'new' ways to amaze her audiences by her energy and enthusiasm. She definitely seemed to have the Rottweiler clown personality and sense of humor. In May, 2000, she competed in the very first ARC carting trial, and in April, 2001, she earned her CS and CI carting titles from the American Rottweiler Club, and then she earned her CST (carting) team title, with a first, at the ARC National in May, 2001. Dinky's theme song was, "I Did It My Way"...Dinky entertained many a crowd with her antics, and I received numerous comments on her happy, bouncy style and antics.
Dinky was diagnosed with Lymphangiectasia in May of 2003. Her diet was changed from Purina Pro Plan Adult formula to the new, Purina Sensitive Stomach diet. Dinky was doing remarkably well, and was even able to resume many of her favorite activities such as carting (she was part of the team that I used for the Cart Rides for Cancer program that I do every year for the Charlotte Co. (VA) American Cancer Society, and she pulled a cart for the Keysville Christmas Parade more than once. Read more about this program: AKC Gazette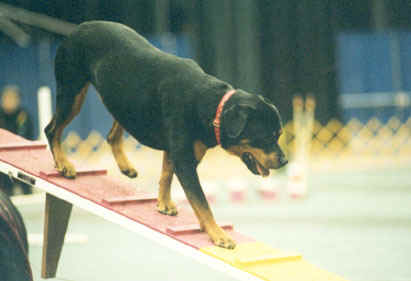 Above: Dinky 'nails' her (yellow) contact on the Dog Walk. For the dogs safety, they must touch at least one foot in the contact zone or be disqualified. This 'contact' time takes time but is designed to keep the dogs from jumping off the obstacles.
Right: Dinky and Glenn competed at the first ARC National Carting Trial in Petaluma, CA, and Dinky earned her first ARC carting, CS (carting on lead). The dogs had to maneuver a gate and a serpentine, haul 40#, back the cart 3', and perform various other jobs to pass the carting test. Carting offers an excellent opportunity for you and your dog to participate in parades, and other local functions. Dinky has often participated in offering cart rides for children.
Below: Dinky walks the see saw (teeter).

*More agility pictures, and agility info, at the bottom of this page.
Left: Rottweilers can fly! Dinky loved to jump and here she is shown clearing the triple jump (24" high and 24" wide). Dinky was only 22" at the shoulders. Dinky's small, compact size was great for agility.